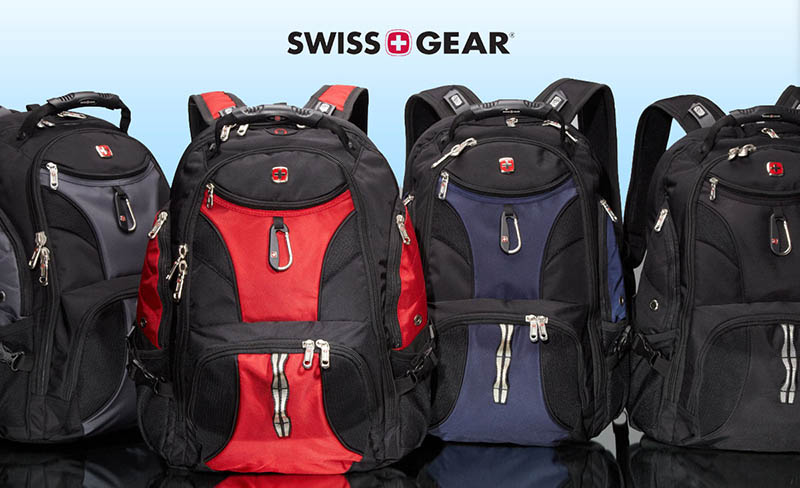 If you're planning your next trip and need to buy new luggage, then Swiss Gear is the brand you need to know more about thanks to their popularity and good quality travel bags.
Swiss-Gear Backpacks are well-known to be some of the industry's best and most durable, versatile and spacious bags that anyone can ever own. The backpacks come in several designs offering enough space for carrying all your business and travel essentials.
That said, here are some of the best Swiss-Gear backpacks available on the market today.
Best Swiss Gear Travel Backpacks
---
1
SwissGear Travel Gear 1900
For many years now, Swiss-Gear's 1900 ScanSmart TSA backpack has been one of the best travel backpacks around. This backpack seems to be a Swiss-Gears selling point as it gives a clear picture of how the company has invested a lot to improve their line of travel backpacks.
Through their unending series of innovations, Swiss-Gear has added several great features to this backpack to improve its line of super-useful line of backpacks for travelers.
One amazing feature of this backpack is the ScanSmart lay-flat technology for the best laptop-in-case TSA scanning. This helps in speeding up scanning in security checkpoints through TSA X-ray machines.
It also features a highly protective laptop compartment equipped adjustable divider meant to accommodate laptops of up to 17-inches in size.
There's also the floating TabletSafe compartment (pocket) for ultimate electronic protection. In addition to the laptop compartment and tablet pocket, it has an organizer compartment, an accordion file holder, a well-padded media pocket with headset cord port, side accessory pocket, several internal accessory pockets, water pockets, a webbing daisy chain, molded top handle, and carabineer.
For maximum comfort and proper weight distribution, the back panel is well-padded with the best airflow system, not forgetting to mention the ergonomic padded shoulder straps.
PROS:
The ScanSmart TSA system makes it the best backpack for frequent travelers
Made from the strong 1200D ballistic polyester fabric
Tablet and laptop-compatible backpack
CONS:
Water-resistant fabric, can't withstand long hours of exposure in wet environments
The padding wears out quickly
---
Best Swiss Gear School and Laptop Backpacks
Taking up the number one spot on our list of the best laptops and school backpacks by Swiss-Gear is the SA1908. This is one of the best backpacks that has gained worldwide recognition and love for having the best features anyone would ever wish for in one backpack.
Swiss-Gear SA1908 is similar to 1900, as they share similar features like the ScanSmart technology which has been widely appreciated by most urban commuters, students, and travelers. The ScanSamrt technology makes it easy for you to pass through the TSA security checkpoint without having to open your backpack for scanning.
The SA1908 has been regarded as the most versatile and convenient laptop backpacks thanks to its great design that comes with numerous features meant to address specific carrying needs for students, daily urban mobility, and messengers.
The huge main compartment (accommodates most 17″ laptops) is well padded and spacious enough to hold several books, files, and binders, among other accessories.
The laptop compartment also has all the necessary design features that secure your laptop through your day to day activities. It also features a small pouch that would hold an MP3 player securely.
There there's the strong fabric that makes it durable and the airflow flow system and padding to make it comfortable.
PROS:
The ScanSmart technology
Interior pocket organizer offers divider pockets for packing other valuables
Very versatile with high functionality
CONS:
There are few exterior and interior pockets compared to other backpacks from Swiss-Gear
Problem with zippers on some units
Heavy
---
Speaking of Swiss-Gear's swing at versatility and convenience, the SA1923 is another important addition in their line of versatile backpacks offering the best level of convenience and functionality you can ever find in one backpack.
Just like most backpacks from Swiss-Gear, SA1923 has got the best levels of comfort you can ever find a backpack.
The shoulder straps are well-padded and are adjustable to fit your carrying needs, making it comfortable.
The back panel is also well served with even padding and the best airflow system to ensure weight is uniformly distributed around your back and best aeration.
This backpack is also made from Swiss-Gears, ballistic polyester fabric to assure you of durability and protect your stuff from showers.
In terms of compartment and pocket organization, the backpack comes with a laptop compartment that can comfortably accommodate up to 15 inches.
The external and internal pockets offer spacious packing capacity for gaming peripherals, files, folders, multiple binders, and other accessories.
There's the TSA technology that makes it easy for you to pass through security checkpoints easily.
PROS:
Very spacious with several pockets and compartments
Very comfortable, thanks for the thick padding
CONS:
The padding is known to wear and tear quickly
Thin padding at the bottom
The water bottle pocket can't accommodate some bottles
---
Swiss-Gear SA9769 is one the most reviewed backpacks for school and carrying laptops.
According to their reviewers, if you want a laptop or school backpack that's able to meet all your daily mobility needs, then you need to learn more about the SA9769.
Though it doesn't have the ScanSmart technology, this backpack has got all the necessary features needed to make it the best for daily use.
The laptop compartment is big and well-padded to keep your laptop protect while achieving the best load balance. The compartment is designed to comfortably accommodate up to 17 inches.
The second main compartment is spacious enough to keep your files, gaming peripheral and up to 3 binders, among other accessories.
The most amazing feature of this backpack is its design simplicity that offers front pockets with the best organization and a special media pocket for keeping your headphones and other electronics.
PROS:
Great pocket organization
Dedicated pockets with minimum storage complexity
CONS:
Not well made as some of the buyers noticed
Small front opening
Size
---
Are you looking for a backpack for carrying tablets, laptops and other essentials to school, work and around town without having to worry about weight and other mobility issues, then is the right backpack for you.
This SG backpack has got all the essential features, making one of the most convenient and special bags for daily urban commuting.
It features a protective laptop compartment that is well-padded and designed to accommodate up to 15 inches comfortably. The second main compartment is also spacious enough to keep books, files, and binders.
It distributes weight well for maximum comfort and easy movement around town. The shoulder straps are well padded with the latest padding technology.
The back panel has a fully functioning airflow system that is fitted with special padding to distribute weight and still offer the best cushioning.
It also features a special tablet pocket (TabletSafe) and an electronic pocket for keeping other accessories.
You can also full use of the adjustable compression straps for securing the bag's contents, side zip pockets, water bottle pocket and padded top handle with a metal D-ring buckle.
PROS:
Affordable
Great for children
Adjustable compression strap for holding your items
CONS:
Poor color customization, only 2 colors available
Poor water resistance properties
---
7
SwissGear 5337 Hybrid Bacpack
Swiss-Gear is well-known for their proactive nature and love for innovation, that has seen them come up with the versatile backpacks available on the market today such as the Swiss-Gear 5337 Hybrid backpack.
This backpack is a result of Swiss-Gear's effort to combine a series of features from other backpacks and carry-on luggage. The features have proven so useful to the busy urban commuter who loves to carry extra items in their backpacks such as clothes, lunch boxes, and light work tools.
Because of its special purpose, this backpack is designed with an improved padding system able to meet the special carrying needs. The back panel padding and airflow system employ special technologies for maximum comfort and convenience.
The main compartment is not only meant to hold the laptop, but you can also use it to keep special accessories such as tablets. The bag is also elastic to accommodate more items in cases where you may need extra space.
Then there are obvious features that come with all Swiss-Gear backpacks such as padded shoulder straps, polyester fabric, water resistance, and pocket organization.
PROS:
Padded laptop compartment
Elastic design
Very spacious
CONS:
Only useful when you need extra space, otherwise you'll be having a bulky bag
---
Why Are Swiss Gear Backpacks So Popular?
You'll definitely agree that everyone needs an ideal backpack for daily urban mobility or for carrying their essentials for a vacation. Our essentials (laptops and other accessories) can be heavy and delicate but with the right backpack, you'll be able to secure them as you distribute their weight on your back for easy movement.
A good backpack is like your much-loved pair of jeans – it pairs with everything, and never goes out of style. This is the ideal Swiss Gear has used for years, making them the most sought-after brands as far as backpacks go. Their bags are versatile enough to handle your carrying needs and simple enough to take anywhere and everywhere.
Speaking of the unshaken popularity of Swiss Gear Backpacks, here are some of the primary reasons why their bags are widely appreciated by people from all walks of life.
Durability
A backpack's strength and durability have a lot to with the type of fabric used and seams.
Swiss-Gear Backpacks are strong and durable since they are made of high-grade materials (fabric) such as the ballistic weave fabric with high-quality seams. This gives you the assurance that you're using the best backpack to securely carry your laptop, tablets and other valuables without worrying that your bags may snap or spill out because it isn't made of strong material.
You can never go wrong with Swiss Gear Backpacks.
Versatility
Swiss Gear Backpacks come in several designs and each design can be used for various purposes, from daily urban mobility to long trips. You can, therefore, use it at work, school, traveling and outdoor activities such as hiking, camping, and backpacking.
Most backpacks feature laptop compartments and other external and internal pockets to keep other valuables such as jewelry, stationeries, and snacks, among other accessories.
You can also carry some extra clothes while traveling since there's enough space for everything, not forgetting extra compartments for your files, folders, and other office supplies.
Water Resistant and Waterproof
Another amazing thing about Swiss Gear Backpacks is their water resistance strength. Being water-resistant means the bags can save you from rain and a few hours of exposure to wet conditions, but not surviving long hours of complete submerge in water or exposure to extremely wet conditions.
But if you're going to use the bag for hiking and camping where you may encounter heavy downpours, it would be safe to buy waterproof designs and not water-resistant (most backpacks are water-resistant).
Some of them also come with small tarps to cover the bags under extreme wet conditions.
Security Features
When it comes to security features, Swiss-Gear backpacks are well secured and you can always rest assured that your belongings are safe.
The security features include the double zipper (two zippers) on every compartment, making it easier for you to put locks on them to keep your valuables safe.
The two zippers are also meant to make sure that your bag won't be opened at any security checkpoint without your consent. Speaking of compartments, Swiss Gear backpacks feature several compartments including internal and external pockets that are well designed and strategically positioned for optimum security.
Another security feature is the unique internal frame that gives the backpacks its shapes, protects your belongings and making it easy to pack and access your belongings. With Swiss Gear backpacks, you won't have to worry about the bag's body collapsing on your belongings.
The most amazing security feature in most Swiss Gear backpacks is the TSA combination lock which is Travel Sentry certified and is recognized and approved by the Transport Security Administration – TSA. The TSA combination lock allows you to fully customize security combinations that you'll use to lock the bag and keep your belongings safe.
To understand how this feature works and set your new combination from the default 0-0-0, please refer to the instruction (user manual) that comes with the backpack.
ScanSmart Technology
We all love to leave in a crime-free environment, that's different institutions have set up world-class security checks to inspect our luggage.
That said, Swiss Gear has equipped their backpacks with the ScanSmart technology meant to help speed through major security checkpoints such as airports. The backpacks are recognized and approved by the TSA and meet all TSA's checkpoint guidelines for different levels of security scanning such as laptop in-case scanning.
To know how the ScanSmart technology works, make sure you read the user guide and avoid packing other objects (such as keys, pens, earphones, and other electronics) around the laptop.
Comfort
Another amazing thing that has seen Swiss Gear backpacks remain popular among urban commuters, travelers, students, and outdoor enthusiasts, is the high level of comfort making them suitable for all carrying needs.
Swiss-Gear backpacks are well padded, from the shoulder straps to the laptop compartment. The back panel is also uniformly padded to help distribute weight evenly, making it simple to carry.
To ensure you have the best positioning, the ergonomic straps are adjustable to suit every use. The breathable back panel is fitted with a superb airflow system which is very beneficial to all users as it reduces the heat between your back and the bags back panel.
With Swiss Gear backpacks, you'll hardly get any back or shoulder pains.
Size and Shape
Nothing fulfills like a spacious backpack with enough space to carry all your belongings without having to worry leaving behind some essential items.
Swiss Gear backpacks come in different sizes and shapes, making it easy for you to right one for your traveling and carrying needs.
Easy to Clean
Most often than not, we travel through different environments and our bag gets dirty from oil spills, coffee spills, muds or dust. This makes it important to have backpacks that easy to clean without delaying us in our daily activities.
Swiss-Gear backpacks are popular for their high-quality materials which are always easy to clean.
Affordable. Swiss-Gear backpacks are among the most affordable backpacks on the market today because the backpacks run between $20 and $100. This means everyone can get one for their budget and carrying needs.
Other Special Features
Away from the aforementioned features, every backpack comes with its unique features and you should always be on the lookout to identify whatever additional features you may find useful.
Swiss-Gear is known for Swiss-Gear watches, army knife, water bottles, among other accessories and special features.
What Are The Types Of Swiss Gear Backpacks?
Thanks to their many years of experience and interest in improving urban mobility, traveling and outdoor activities, Swiss Gear's line of backpacks feature several designs meant to meet different carrying needs.
These include:
Travel Backpacks
TSA/ScanSmart Backpacks
Messenger
Clinch Sports Bag
Our Pick: SwissGear Travel Gear 1900
For many years now, Swiss-Gear's 1900 ScanSmart TSA backpack has been one of the best travel backpacks around. This backpack seems to be Swiss-Gears selling point as it gives a clear picture of how the company has invested a lot to improve their line of travel backpacks.
Last update on 2020-08-10 / Affiliate links / Images from Amazon Product Advertising API