Your trip could only be much more enjoyable (and streamlined) if you packed your valuables the right way. Backpacks are meant to do just that – particularly those designed for the maximum comfort and optimum organization.
But then again the best backpack could be so elusive. You'll have to answer some questions to make an informed decision.
| | Recon | Borealis | Jester |
| --- | --- | --- | --- |
| The North Face | | | |
| Size (Liters) | 30 liter | 28 liter | 28 liters |
| Hipbelt | Yes | Yes | Yes |
| Laptop Compartment | Yes | Yes | Yes |
| Fits Laptop Size (in.) | 15 inches | 15 inches | 15 inches |
| iPad / Tablet Compartment | Yes | Yes | Yes |
| Carry-On | Yes | Yes | Yes |
| Dimensions | 21.25 x 14 x 10.5 inches | 19.75 x 13.25 x 9.75 inches | 19.75 x 13.25 x 7.5 inches |
| Weight (lbs) | 2 lbs. 7.7 oz. | 2 lbs. 11 oz. | 1 lb. 12.9 oz. |
| | [wpsm_button color="green" size="medium" link="https://www.amazon.com/North-Face-Recon-Heather-Medium/dp/B00EP2XF06?tag=outdokee-20" icon="" target="_blank" rel="nofollow"]Check Price[/wpsm_button] | [wpsm_button color="green" size="medium" link="https://www.amazon.com/North-Face-Borealis-Black-Size/dp/B00OS2NUT4?tag=outdokee-20" icon="" target="_blank" rel="nofollow"]Check Price[/wpsm_button] | [wpsm_button color="green" size="medium" link="https://www.amazon.com/North-Face-Jester-TNF-Black/dp/B0764GXZ99?tag=outdokee-20" icon="" target="_blank" rel="nofollow"]Check Price[/wpsm_button] |
For example: Where will you be traveling to? What features would you be looking for considering your trip requirements? How big should it be? Are you concerned about men's and women's styles? And what are your organization options? Do you want a backpack that will fit into long-term plans?
Well, here is where The North Face (TNF) Backpacks come in handy. TNF is one of the most popular and fashionable outdoor gear brands, besides being well-known for its apparel lines.
It comes as no surprise that they are popular among townies needing something fashionable to keep warm in winter, and passionate outdoor sportsmen who need reliable and high-performing gears.
And because most people have been talking about The North Face Recon vs Borealis vs Jester, I'll be reviewing and comparing the three based on design, organization, functionality, strength, and adaptability, among other factors.
That said, here's is my detailed comparison of The North Face Recon vs Borealis vs Jester.
[wpsm_numbox num="1″ style="2″]
The North Face Recon Backpack
[/wpsm_numbox]
The North Face Recon is an excellent laptop backpack that is designed for both comfort and carrying everything you could need in the city.
Urbanites love how compact it is and still manages to offer enough space like the bigger models.
Dimensions And Volume – Size Guide
Dimension at 21.25 x 14 x 10.5 inches with a net weight of 2 pounds, you're assured of a light and spacious pack at 31 liters.
This means you can slide in a 15-inch laptop easily. It can also hold clothes and other items in the main compartment.
Capacity And Organization
The main compartment is large enough to hold several things ranging from a 15-inch laptop to holding books and clothes – technically everything revolving around any typical urbanite's life.
The second compartment has a padded fleece-lined pocket that you can use for a tablet and other smaller electronic devices.
There's also an internal organizer for cards, pens and other loose items. On the outside, the pack has a small zippered pocket to hold things that you'll need to reach easily like phones and modest electronics.
It also includes 2 water bottle holders on both sides and a modern clip access pouch towards the front.
Recon is appreciated for its incredible combination of storage options – a well-thought-out organizational ability.
Material And Overall Quality
Recon is made out of durable fabric that blends 1680D Ballistics nylon, 600D polyester print, 420D nylon, and 210D Cordura nylon.
This produces a strong fabric that is water-resistant, resistant to wrinkling and can withstand harsh weather that may be experienced in towns. This also means resistant to bleaching.
Comfort
From a comfort and functionality standpoint, the Recon backpack boasts a padded air-mesh back panel and compression-fitted shoulder straps for maximum ventilation and support.
The back panel also features a spine channel that boosts airflow between your back and the bag.
The sternum strap and waist strap are also helpful when it comes to weight distribution around the waist.
Reliability
The backpack is well cushioned for holding value items like electronics. The zippers are sturdy too.
[wpsm_column size="one-half"][wpsm_pros title="PROS:"]
Great storage space and organization
Comfortable and versatile
Excellent fabric and seam quality
[/wpsm_pros][/wpsm_column][wpsm_column size="one-half" position="last"][wpsm_cons title="CONS:"]
Some people may find the style to be so out-of-date
Weak frame
It's not waterproof
[/wpsm_cons][/wpsm_column]
[wpsm_numbox num="2″ style="2″]
The North Face Borealis Backpack
[/wpsm_numbox]
The North Face Borealis is a stylish and functional backpack that will fit right into the life of every urban hiker, whether fighting traffic or running late to office/class.
Built to be comfortable and classy, the Borealis backpack helps you organize items effortlessly thanks to its spacious pockets and compartments.
You'll also enjoy the freedom of choosing from 41 different color and pattern combinations.
Dimensions And Volume – Size Guide
An empty Borealis backpack weighs 2 lbs. with a volume of 28 liters equivalent to a dimension of 19.75 × 13.5 × 8.5 inches.
Its shape is also innovative to make it comfortable packable to hold a 15-inch laptop safely.
Overall it has an amazing design that blends well with its size and functionality to offer enough storage options for any organized individual.
Capacity And Organization
There are several reasons why Borealis is an ideal option for any individual who needs a stylish, solid and functional backpack for everyday use.
It features a main compartment which is the only large space. This compartment has its back and sleeves padded so that you can slide in a 15-inch laptop without the fear of damages. The padding protects the laptop and other items in the bag.
There is another smaller compartment that you use to carry your tablet or a mini-laptop, though some may not fit the sleeve properly.
On the pack's front, there's a bungee mesh cord for holding and helmet or extra pieces of clothes that you may need to access easily.
Just above the cord, there's a small zippered top-pocket. Behind the mesh cord, you have a large front compartment that you can only access once you undo the side straps.
Then there's a loop on the bottom on the front face, which is suitable for light attachment especially if you're riding a bike.
The front pocket is spacious and full of features, along with 2 additional large pockets on its backside and several organizers inside.
One of the compartments is zippered and includes a key clip, making it ideal for daily, urban-related activities.
Material And Overall Quality
Besides having a streamlined design, The North Face Borealis is also a strong and durable backpack. You'll instantly notice how strong and well-built the fabric feels.
The pack's fabric is made out of an incredible combination of different nylon material (ranging from 210D to 1680D) and thick polyester to ensure you get a light and reliable backpack.
The high-quality construction makes the Borealis water-resistant, resilient to wear and tear and bleaching.
Comfort
The North Face's unique FlexVent suspension technology has been utilized to assure users of an outstanding experience. Though the FlexVent system, the straps are designed to fit your shoulders comfortably.
Both the shoulder and sternum straps are well-padded, contoured and adjustable.
The back panel features air mesh padding, additional cushioning, air-flow channels, and a central spine channel that will let your body breathe and keep you cool when wearing the bag.
The cushioned back panel is designed to suit tech-savvy users who need secure storage space for their gadgets.
Reliability
You'll also benefit from a padded top handle, reflective bike light, accessible external pockets for phones and sunglasses, 2 stretch mesh pockets for holding bottles, and compression straps on both sides for adjusting loads.
[wpsm_column size="one-half"][wpsm_pros title="PROS:"]
The mesh cord pockets offer extra, flexible storage
Several interior compartment and pockets for different items
Water resistant fabric
[/wpsm_pros][/wpsm_column][wpsm_column size="one-half" position="last"][wpsm_cons title="CONS:"]
Not recommended for hikers and professional athletes
Some people have expressed concern about the extra cushioning and padding that adds unnecessary weight
Doesn't have a rain cover
[/wpsm_cons][/wpsm_column]
---
[wpsm_numbox num="1″ style="2″]
The North Face Jester Backpack
[/wpsm_numbox]
We can spend hours talking about the Jester Backpack's appearance and style, but today we will let it speak for itself. Tough, sexy, comfy, and spacious…these are some of the words used to describe this incredible pack.
The North Face Jester Backpack is a great and daypack suitable for traveling – especially if you're looking for something with a reliable space and quality.
Dimensions And Volume – Size Guide
The 26-liter Jester backpack (1587 cubic inches) doesn't disappoint when it comes to organizing and protecting your gear.
At a reasonable weight of 4 lbs. and dimensioning at 19.75 × 13.25 × 7.5 inches, Jester is so roomy and great for hauling laptops and books. A sleek and spacious sidekick for every tech-savvy Urban Hiker.
Capacity And Organization
The most amazing thing about this pack is its compartments that are well-crafted out of strong materials, giving it the ability to carry load effortlessly around town.
The most noticeable compartments are the 2 different zippered pockets that can hold a 17-inch laptop, a DLSR camera, a sweater, and other items that may need a large space.
The first pocket has a keychain clip and cardholders, which makes it convenient for organizing small things like iPods, passports, and anything else that may need to reach easily. The second compartment is the large interior.
There is also more space for extra gear, and a water bladder.
Material And Overall Quality
The backpacks design, material quality, and construction mean you'll never have to worry about ripping the fabric or busting any seam during your trip.
Having been made out of 600D Polyester fabric with quality seams, the Jester pack has enough strength to carry heavy loads without having to worry about ripping or the threads running out.
The fabric is strong and water-resistant with the ability to absorb and hold color, making it fade resistant.
Away from the 600D polyester that makes a better part of the bag, some parts have been blended 1200D polyester which makes the bag highly durable and reliable, 450D × 300D heather polyester excels in heat retention, and 600D geo emboss polyester which is stretch resistant and you won't worry about material wrinkling.
The blend of these materials gives the bag a satisfying overall durability rating.
Comfort
The Jester backpack offers its users excellent comfort for a standard pack by making the back panel well-padded so you don't have your back hurting during your trip. Also, the shoulder straps are well-padded so they won't be digging into your shoulders.
The back panel and shoulder straps are ventilated which not only helps with overall comfort but also keeps your back and shoulders cool and less sweaty while walking around in the sun.
Another amazing comfort feature is the chest strap that allows you to connect your chest and the shoulders to help stabilize the load and offer additional support.
Then there's the FlexVent technology (suspension system) used to make the padded, air-mesh back panel, a spine channel and shoulder straps for maximum ventilation and support. The hip strap is also available.
Reliability
The zippers are of good quality and run smoothly, meaning you won't have to worry about the zippers snapping or jamming.
The hip-belt can be easily and quickly removed through a quick-release buckle. This means you have reliable support for weight around your waist.
The top handle is fully-padded to ensure the bag's weight doesn't dig in your hands when you need to pull or carry it around.
[wpsm_column size="one-half"][wpsm_pros title="PROS:"]
Versatile enough to suit most Urbanites
Comfortable and features a proper ventilation
Comes in several styles to choose from
[/wpsm_pros][/wpsm_column][wpsm_column size="one-half" position="last"][wpsm_cons title="CONS:"]
Not meant for overnight trips, but it's a great daypack
Not meant for overnight trips, but it's a great daypack
It feels stiff and thick like a cardboard
[/wpsm_cons][/wpsm_column]
---
The New Rules For Choosing The Right Backpack
For several years now, North Face Backpacks have been widely appreciated for their style, excellence, quality, and durability, making them a popular brand among most outdoor adventurers.
The backpacks come in different shapes and sizes based on functionality and activity.
These include overnight backpacks for keeping the basics, full backpacks that you can live out while traveling and daypacks for quick trips.
But since everyone may have their own preferences when shopping for packs, here are some of the primary things you need to consider when shopping for one these days – especially The North Face Backpacks.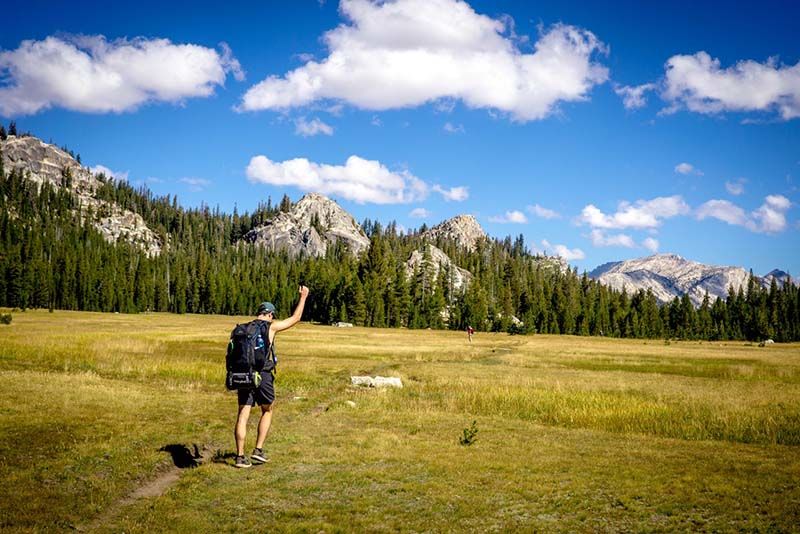 Style And Design
The North Face backpacks are extremely popular for their style and applicability.
That's why they are one of the most popular brands among urbanites (the fashionable space) and outdoor enthusiasts.
Based on their different designs, you're likely to get something that best works for you in line with your fashion taste.
You'll need to pay attention to dimensioning, material, frame and zippers, which guides you to the three basic categories of backpacks.
Internal-Frame Backpacks
These make the majority of packs on the market today. The majority of the North Face backpacks are internal-frame packs, which are designed to keep you stable when traveling and even transfer of weight around the hip area.
The frame may either be curbed Delrin rods, plastic frame-sheets, aluminum stays, or a combination of different materials.
This means the packs are mostly used for a bigger and heavier load, at least 15 pounds.
External-Frame Backpacks
Though they are also popular for big, heavy loads, they are only ideal for walking on trails (as opposed to internal frame packs which are best for climbing, bushwhacking and skiing.
That's because the pack hangs off the external frame, which positions the load away from your back.
Though external frames are less preferred compared to internal frame packs, they have a higher center of gravity which still helps with weight transfer around the hip and allows you to walk in a more upright posture.
Frame-Less Backpacks
These are also known as daypacks and are most often soft-backed, mainly used for single-day climbs, hikes, bike rides and run.
They are lightweight and meant for light loads about 10 – 15 pounds.
Capacity And Organization
After considering the overall design and style, it's time for capacity and organization. After all, we need backpacks with enough space to keep our stuff safe without worrying much about allowable size and weight.
You're unlikely to be satisfied with a pack that is too small because that means you won't be able to keep all the gears you need.
Besides, a huge backpack will feel bulky and may not fit its purpose.
Away from the size which influences the capacity, a good organization is also vital because you'll need to arrange your things in a particular format for easy access and safety.
You'll need a backpack with enough, spacious compartments and pockets strategically positioned for convenience.
Most North Face Backpacks Features
Internal And Top Loading Openings
Which are pretty standard, and useful when it comes to holding different items through your trip.
Panel Accesses
Which are mostly zippered front panels that fold open and makes it easy for you to reach items deeper in the pack?
Then there are the HIP-BET POCKETS, SHOVEL POCKETS, ELASTICIZED SIDE POCKETS, and FRONT POCKETS, meant to offer extra storage compartments for quick and easy access to certain items.
Padding
Most North Face backpacks are padded on the back panel and straps to improve their comfort and also protect items in the backpack as well.
Padding protects your shoulder and back from hurting especially when you're hauling heavy loads and still safeguards items in your backpack since it acts as a shock absorber in case the pack sets down hard.
North Face packs are well-padded (thicker) with breathable pads and other materials to ensure you're comfortable using the packs.
Ventilation
The reason why most North Face backpacks feature mesh back panels is to allow for air circulation.
Well-ventilated backpacks combat the sweaty-back syndrome that is highly common with internal frame backs because they ride against your back.
Popularly referred to as the tension-mesh suspension, North Face's trampoline-like design gives the packs a well-ventilated design where the bag rides a few inches from your back by resting against the highly breathable mesh (padding).
Some packs may also feature ventilation "chimneys", which are built into the padding or the entire back panel to promote airflow.
Strapping
If a backpack doesn't fit comfortably, then it's not worth the investment. It's like a pair of shoes, they can be fashionable and the best ever, but they're of no use if they don't fit properly.
Likewise, backpacks need straps and enough padding to ensure they fit comfortably without hurting your shoulders and hips.
The fit needs to be perfect so you will be easy wearing the backpack.
If strapping comes in different sizes, find the correct size for you by measuring your torso. If not, find one with adjustable straps.
This shouldn't be an issue because all North Face backpacks have adjustable straps, so you should just be keen on the amount of padding and the types of straps available i.e. shoulder straps, sternums straps, load-lifter straps, etc.
Attachment Points
Attachment points will only be a major concern depending on your plans and application.
Some people will be looking for clip-on points, bungee cords, daisy chains, tool or ice-ax loops for attaching gear to the exterior of the pack.
Attachment points are mainly important for outdoor enthusiasts who may need a backpack for hiking, climbing, bike riding, and camping.
Fabric And Engineering Quality
A pack's strength and durability depend on the type of fabric, seams, and stitches. This defines its suitability for different uses and how it can resist wear and tear.
Choose packs with strong fabric, durable seams, wash and weather resilient colors, overall resistance to wear and tear, strong drawstring and overall durability.
After the fabric, stitching is one area you need to take seriously if you want a pack with the best manufacturing quality.
North Face backpack (just like other brands) will have stitches in several places, for instance around the handles, zippers, pockets, straps and any of the seams.
Make sure the stitching is of high quality and can support the pack's level of duty.
The stitches should be grouped tightly enough to keep them strong so that they don't pull apart under heavy loading.
Zippers
Away from the engineering quality, you'll also need to take note of the zippers.
The quality of the zipper is an area of importance because some fine backpacks may use low-quality zippers, which often affects the pack's overall quality.
You don't want to deal with low-quality zippers that jam or break when zipping or unzipping the backpack.
Other Features
The quality of your ideal backpack also depends on other special features that may vary among different models.
Some people may need packs made from waterproof or water-resistant fabric, large compartments for keeping electronics such as laptops and tablets, airport security scanning features, interchangeable/ fixed/adjustable suspensions, hydration reservoir, rain cover, and price.
Conclusion
Every time you go shopping for a backpack to make sure you've taken note of the right features and factors.
This helps to settle on the right option that will suit your needs without compromising on anything.
Just use your buying guide to make informed decisions. From the above-listed pack, the Recon works best for me because of its exceptional blend of features and durable build quality.
Though the three-pack is ideal for any urbanite, you should settle on one that meets your interests.
Hope you find this guide useful for your next shopping. Good luck.
Image by The North Face, Modified by Author.
Last update on 2021-12-28 / Affiliate links / Images from Amazon Product Advertising API