Camping doesn't have to mean uncomfortable nights on the cold floor in a sleeping bag. With a high-quality bed, you can enjoy many a night in the great outdoors. Exploring the best heavy-duty camping cots for a great night's sleep is your first step in enjoying a great outdoor experience.
Evidence already shows that sleeping in the great outdoors is great for our health, both mentally and physically, and the right kit can help make this sleep even more enjoyable and relaxing.
Many campers choose to upgrade from floor sleeping to sleeping in a cot but choosing the right one requires time and set parameters. Keeping your budget, weight capacity and use considerations in mind is essential when picking your next sleeping cot.
---
Up to 600lb Capacity
Here are three of the best heavy-duty sleeping cots with a weight capacity of 600lb.
---
Our Pick: Teton Sports Outfitter XXL
Unfolded Dimensions: 85″ x 40″ x 19″
Folded Dimensions: 42″ x 12″ x 7″
Weight: 26lbs
Weight Capacity: 600 lbs
Designed with the biggest of guys in mind, the Teton Sports Outfitter XXL is one of the largest on the market. With a little help with a friend or two, the Teton XXL can be slotted together with the frame pulling out fully for a tight, comfortable surface for a good night's sleep.
Make no mistake about the size of this cot, it will take up a lot of space in almost any tent, but it might be the perfect choice for anyone considering a higher-weight capacity cot.
This product comes with a handy carry bag and features an aluminum frame, which is great because it's designed to last and repel water and rust.
The S-leg design further strengthens the Teton XXL, which is great for ensuring no sagging or movement during the night. The manufacturers of this tent highlight the speed at which it can be put up as a key selling feature, so if you are looking for a simple to assemble option, this may be worth considering.
What We Like:
Impressive weight capacity without sagging
Incredibly comfortable, even with just a sheet and duvet
Shock-absorbing rubber bushing adds further support
Not So Much:
The super-sized nature of the cot means it doesn't fit all tents
Two people minimum recommended to set it up
Large, even when packed, not ideal for carrying long distances
Runner-Up: Guide Gear XL Magnum
Unfolded Dimensions: 84" x 39" x 20"
Folded Dimensions: 45″ x 7″ x 9″
Weight: 31.3lbs
Weight Capacity: 600 lbs
Offering a 600lb weight capacity and sturdy, rugged design, the Guide Gear XL Magnum cot is designed with stability and support in mind. If you are looking for a big man cot that ensures a firm base for a good night's sleep, this might be a great choice.
600-denier polyester fabric with a hard-wearing PVC coating to the back provides the foundation for sleep, as it is stretched across a sturdy powder-coated steel frame. The X-frame design is chosen to enhance the stability of the cot and this feature may be particularly helpful for larger people moving from on-floor camping to their first cot.
While those who move about a lot in their sleep may experience some rocking, the XL Magnum has little additions such as shatter-proof feet and reinforced stitching to further toughen up the design. This is a cot that requires assembly, so campers should be ready to spend some time putting it together before being able to use it.
It isn't easy to transport without a car, so is better for campsites and similar where you take your vehicle along due to its heavyweight. If you are looking for a particularly long and wide cot that delivers great comfort, the XL Magnum may the one for you.
What We Like:
Extremely heavy-duty for larger people
Reinforced stitching for hard-wearing support
Shatter-proof feet for additional sturdiness
Not So Much:
Can be difficult to assemble alone
Heavy to carry long distances
May not be suitable for those who move a lot in their sleep
Also Great: Texsport Extra Large Easy Set-Up Cot
Unfolded Dimensions: 81″ x 30″ x 18″
Folded Dimensions: 40" x 6" x 7"
Weight: 24.6lbs
Weight Capacity: 600 lbs
One of the lighter weight offerings in the 600lb capacity cot category, this Texsport First Gear sleeping cot delivers ease of use for larger campers and travelers.
The 600-denier PVC coated polyester fabric stretches tightly across the frame, which might be a great choice for larger people looking for a supportive foundation at night. If it is important to you to be able to transport your cot with ease, the Texsport First Gear comes with a convenient carry bag with handles, for easy transportation.
It is relatively lightweight and the setup is straightforward too, with no end bars providing additional convenience to its design. There is no assembly beyond unfolding this heavy people cot and with six feet and support bars, it is designed to remain solidly in place throughout your sleep.
What We Like:
Extremely sturdy with no slouching or sagging
Handy carry bag with handles included
Easy to set up and use
Smaller and lighter to carry than alternatives in the same category
Not So Much:
Additional padding or cushions required for comfort
---
Up to 500lb Capacity
---
Our Pick: Slumberjack Big Cot
Unfolded Dimensions: 86" x 40" x 20"
Folded Dimensions: 45.1" x 7.9" x 6.7"
Weight: 35lbs
Weight Capacity: 500lbs
The Big Cot by Slumberjack is recognized as one of the largest and longest single cots on the market. This super-sized feature means it might be a good option for heavier and taller people in need of a camping bed to avoid sleeping on the ground.
It is suitable for almost all cabin-style tents. The structure of the Big Cot by Slumberjack has sturdiness in mind, with lockable legs offering more stability and peace of mind for sleepers.
It is one of the heavier cots on the market which means it might not be the best option if you're planning to walk and camp. It does have a handy carry bag included to fold it into, useful for storing in cars or vans.
The Big Cot delivers comfort for people who may not otherwise be able to find a suitable cot in length and width.
What We Like:
One of the largest single cots on the market
Handy locking mechanism for legs
Strong steel construction
Not So Much:
Heavier than others of its class
May smell, attract damp over time
Large, even when packed
Two People Option: Disc-O-Bed
Unfolded Dimensions: 81.75" x 32.25" x 36.5"
Folded Dimensions: 40.25" x 16.25" x 11.25"
Weight: 63lbs
Weight Capacity: 500lbs (per single cot)
The Disc-O-Bed Large sleeping cot offers a highly versatile design. Its unique four-way system might be perfect for families traveling or for offering ways of turning your tent into a real home.
The Disc-O-Bed sleeping cot can be used as a large double bed, two single cots, two bunked cots, or even folded into a bench.
If you are looking for versatility and a cot that can double up as seating, this is a popular option, removing the need for packing additional chairs.
See our review of the best 2 person cots and camping cot with air mattress.
As well as its many functions, the Disc-O-Bed is constructed from powder-coated anti-rust steel, which helps to ensure its longevity. It does require assembly, with the help of more than one person, but no additional tools are required.
If you're short on space in your tent, this sleeping cot can be a space-saving option and each cot also has a 500lb-weight capacity, ideal for larger campers.
Organizer pouches are also included with each cot, which adds storage space and might be a great choice if you like to keep things organized in your tent.
What We Like:
Highly versatile 4-ways design
Large organizer pockets for convenience
Anti-rust frame
Not So Much:
At the higher end of the price spectrum
Much heavier than alternatives
Requires more than one person to assemble
Also Great: Browning Titan Cot XP
Unfolded Dimensions: 81" x 30" x 19.5"
Folded Dimensions: 48" x 5″ x 9″
Weight: 18.5lb
Weight Capacity: 500 lbs
The Browning Titan Cot XP caters to larger campers, being one of the longest options available on the market. It requires assembly on-site which can take some time, but the result is a sleeping cot that is sturdy and comfortable to use.
Featuring a vertical middle leg and X-frame design the Titan Cot XP is designed to remain stable and level on the ground.
This sleeping cot also features handy organizational pouches. These can be really useful for storing valuable items off the ground and ensuring you have everything you need to hand.
Another good feature is that one of the pouches can be detached, making it useful as toiletries or carry bags if needed.
The Titan Cot XP is at the higher end of the price range for its category but comes with the additional features mentioned.
What We Like:
One of the longest heavy duty cots on the market
Extremely comfortable even without additional padding
Organizer pockets add convenience
Not So Much:
Higher than average, making it difficult to fit in some tents
Quite difficult to assemble
Plastic foot caps not ideal for uneven or soft ground
---
Up to 300lb Capacity
Our final range of heavy duty sleeping cots looks at those in the 300lb weight capacity category.
---
Our Pick: Coleman Pack-Away Cot
Unfolded Dimensions: 80" x 44" x 17"
Folded Dimensions: 39.5" x 10" x 11.2"
Weight: 23lbs
Weight Capacity: 300lbs
Reliable and easy to construct, the Pack-Away Cot by Coleman is one of the collapsible-style cots which might be the perfect choice for frequent campers and travelers.
Still one of the larger cots on the market, the Coleman Pack-Away should be suitable for people up to 6'6" tall and of the options out there, offers great value for money.
Additional features of this cot include a unique side table. This is a really useful feature for when you plan considerable time in your tent and may want to relax with your tablet positioned on the table as you rest, or a portable speaker as you listen to music.
The table folds away easily too and the cot itself provides a sturdy platform for a good night's sleep. It is one of the firmer cots out there, which may not suit all sleepers and you may require additional padding or cushioning.
What We Like:
Unique side table feature
Exceptional good value
No end bars for easy construction
Not So Much:
Heavy for its size
May rock or tip in the night for restless sleepers
The firm surface doesn't suit everybody
Also Great: Coleman Trailhead II Cot
Unfolded Dimensions: 75" x 35" x 17"
Folded Dimensions: 36" x 7" x 11"
Weight: 20.9lbs
Weight Capacity: 300lbs
With its unique camouflage design, the Coleman Trailhead Cot might be a great choice for army enthusiasts and those looking for something a little bit different that still offers the comfort and durability required.
The Trailhead Cot has an easy-to-use collapsible design that packs away easily for transportation. This feature is great if you're planning a road trip with lots of stops and want to easily put up your cot night after night.
It is wider than the average cot too which is great as it may offer much-needed additional comfort for larger campers.
Unusually, this cot has no center bar in its frame design. This interesting feature doesn't detract from its sturdiness but can provide additional comfort for some sleepers.
The fabric is designed to last but it may rip or tear over time, so carefulness is recommended when putting it up and down.
What We Like:
Unique camouflage military-style finish
Handy organizer pockets
No center crossbar which gives additional comfort
Not So Much:
Prone to easy ripping and tearing
Not as long as some alternatives on the market
Heavier than some alternatives too
Also Great: Byer of Maine Easy Cot
Unfolded Dimensions: 79" x 32" x 17"
Folded Dimensions: 39.5" x 6" x 7"
Weight: 22.5lbs
Weight Capacity: 330lbs
Byer of Maine introduced the Easy Cot as one of the first on the market, although it has been developed over time to suit different weight capacities.
Its main feature is the ease of use, which means it might be the right choice for campers who want to be set up as quickly as possible, with no headaches of constructing and assembling their cot.
As the name suggests, this cot aims to simple to use and it is really useful for road trippers who may be moving camp night to night.
The Easy Cot collapses to a very small size but it is heavier than many of its competitors. It is not designed for carrying across long distances and is recommended for outdoor camping at places with car access.
It features strong welded steel legs and multiple fabric reinforcements to ensure it can uphold its weight capacity of 330lb.
What We Like:
Super simple to unfold and setup
Welded steel frame for stability
Packs small and compact
Not So Much:
Surprisingly heavy considering the size
Lighter colored fabric edging prone to get dirty/ discolored quickly
---
How Do I Choose A Heavy Duty Cot?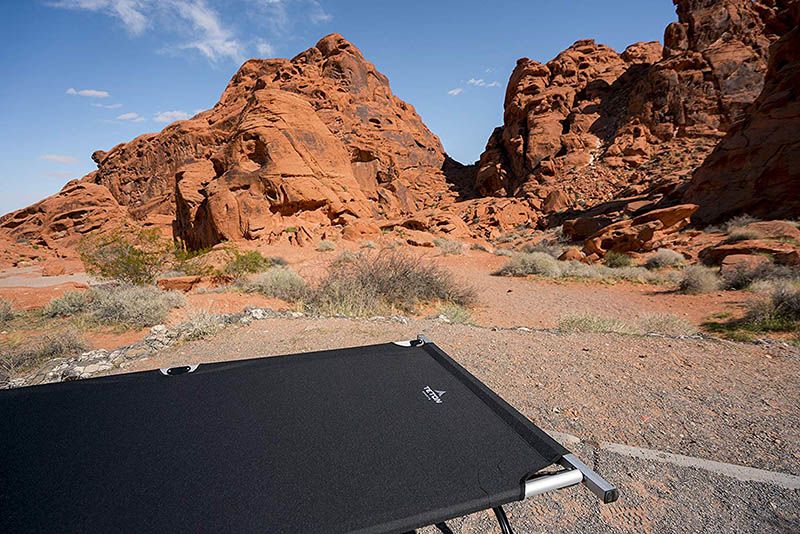 What do you expect from a good night's sleep? This will influence your choice of the heavy-duty sleeping cot. The cot itself is the foundation of your sleep. It should offer comfort and support and provide a base for any additional sleep accessories you require such as duvets or sleeping bags.
When exploring your heavy-duty sleeping cot options the main consideration is the weight capacity. This is especially true when you plan to share the cot so need to ensure it is strong enough to hold more than one person. The wide range of products on the market ensures you can assess different options in every weight category and also keep your budget in mind. There are sleeping cots available at most price points, allowing you to set a budget and stick to it.
Benefits of Sleeping Cots over Other Options
You may be used to camping in the traditional way but sleeping cots can give you an alternative experience and enhance your whole camping trip. Sleeping cots ensure you are not in contact with the cold ground and do not come with the risk of punctures or deflation like air mattresses.
The best heavy-duty sleeping cots are made from quick-dry, durable material that staves off condensation. They are also easy to fold down and carry, making them easy to store in the car and transport with ease. They might be a great choice for anybody looking for a low-stress camping experience, where you can focus on making memories rather than worrying about an uncomfortable night's sleep.
Sleeping Cots for Larger People
Heavy-duty sleeping cots are specifically designed for heavy people or to sleep more than one person. The range of heavy-duty cots on the market is designed with specific additional features to ensure comfort and sturdiness for larger people.
Additional features may include extra support bars and reinforced stitching. Cot design is focused on ensuring a peaceful night's sleep for all and many will be longer and wider than traditional cots as this should help ensure a better, more comfortable sleep.
What to look for in a heavy duty camping cot
When exploring the heavy-duty cots on the market, remember to consider these key points:
Weight capacity – do you need more than 300lb? Be sure to check the capacity the cot offers
Portability – do you need to be able to carry your cot long distances? Check whether it comes with a carry bag or similar.
Reinforcements – would you feel better if the cot features reinforced fabrics?
Versatility – do you want additional features such as pockets or surfaces with your cot?
Height – how high from the ground are you comfortable being? Some sleeping cots are much higher than others so you should keep this in mind
Budget – if you have a top limit be sure to stick to it and don't discount certain cots simply due to lower price points.
Evaluating your individual needs, budget and any optional extras you'd like is step one in finding the right sleeping cot for your requirements.
Last update on 2022-02-17 / Affiliate links / Images from Amazon Product Advertising API