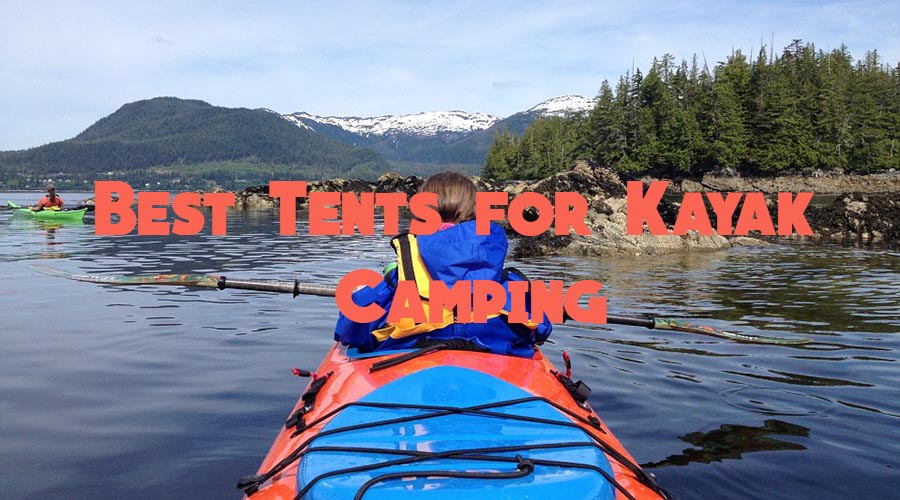 According to kayak camping enthusiasts, camping out of your canoe/kayak brings a feeling of freedom that only a few explorations onshore can match. For sure, the blue water beckons.
A kayak camping expedition combines the joys of kayaking and the thrills of camping. The kayaking camping expeditions are somewhat similar to backpacking since they both use much of the same equipment. The main difference being that in kayak camping you don't have to carry all the camping weight on your back.
That said, I've been having many camping enthusiasts wanting to know more about canoe camping essentials. And one thing that has continued to be of great concern is the right choice of kayak camping tents.
Since Kayaking tents require an exceptional set of features, I resolved to feedbacks from real kayaking enthusiasts and research to come up with this useful list of the best tents for kayak camping.
---
1
Mountainsmith Morrison 2 Person 3 Season Tent
According to most campers who have had the privilege of using the new Mountainsmith Morrison 2 tent, it's without any doubt the best solutions for kayak camping. Mountainsmith is popular for their experience and maintaining quality through all their tents.
The Mountainsmith Morrison 2 has the two-door design that keeps it top in the games. The two doors give campers the option of additional warmth, and overcoming the less ventilation experienced in tents with the nylon panel.
The tent is easy to set up thanks to the 2-pole system. Morrison 2's durability and weather resistance remains unquestioned because of the strong material and flexibility through fall, winter and summer.

The PU coated bathtub style floor is one of the latest technology that Mountainsmith have used on Morrison 2 to ensure its waterproof property is the best standards. For additional waterproofing, it comes with a PU-coated polyester fly.
PROS:
Its user-friendly and easy to set up
The No-See-Um mesh is a beneficial addition to the tent's walls
The 2-doors makes it a better option for most campers
CONS:
The PU-Coating technology makes it heavy
Small vestibule
---
2
TETON Sports Mountain Ultra Tent 
TETON Sports haven't been around for long but their tents with new innovations have been outstanding so far.
The Mountain Ultra Tent, in particular, is one you can trust for kayak camping since it has brought competition to the likes of the ALPS Mountaineering and Coleman tents.
TETON Sports' line of tents has everything that campers and backpackers would be looking for, as their tents are configured from 1-person to as many as 4-person. Their tents are indeed a reasonable solution to most camping adventures.
The TETON Sports Mountain Ultra is one pole tent with an innovative dome-shaped design. This design makes it more spacious for most campers.
Its great waterproofing performance has made it a great option for kayak camping since it built with high-quality waterproof bathtub floor and well-reinforced seams. The strong material and aluminum poles give it the strength to withstand winds, rains, high and low temperatures.
PROS:
Lightweight making it suitable for most camping adventures
Comes with a footprint

Rainfly with cutaway vents
CONS:
It has no windows
Poor ventilation
The footprint doesn't cover the vestibule
---
3
ALPS Mountaineering Mystique 2-Person Tent
Are you looking for the lightest 2-person kayak tent? Well, the Mystique 2-person tent is ALPS Mountaineerings and one of the industry's lightest 2-person tent. 
This is a non-freestanding tent, meaning that setting it up is a bit complex because you'll need to anchor it on the ground first. As a result, this tent can only be used on specific types of grounds that can anchor easily and firmly.
It can be used for terrain like sand, gravel, rock, concrete or frozen ground.
The main features that make it one of the best tents for kayak camping are the waterproof floor of PU-coated polyester and the polyester fly. These features make it waterproof away from protecting the tent from strong UV rays and mechanical abrasion.
The two (7000-series aluminum) poles offer sufficient headspace as well as a rather quick and simple setup. The two vestibules and two doors offer you and your partner enough personal space.
PROS:
Durable and can withstand different weather conditions
Two vestibules
Lightweight makes it convenient for most camping trips
CONS:
Not freestanding
Low height hence it's won't spacious to some individuals
It's not compatible with most grounds
---
4
ALPS Mountaineering Lynx 1-Person Tent
Compact, but roomy, the ALPS Mountaineering range of tents are multipurpose, cost-effective and easy to set up.
The Lynx 1-person tent has enough space inside to lie back on most airbeds and you won't have to be concerned about the weather as the Lynx 1-person comes with the ALPS Mountaineering quality.
The Lynx 1 tent is a free-standing two-pole design providing enough room for solo use. The tent's upper section is a mesh while the lower sections and the very bottom are made up of a sealed seam and waterproof fabric. The door is a D-shaped meshwork, large enough to allow any size of the entry.
With the two pole system coupled and the shock-corded aluminum structure and fasteners that fasten easily, the tent is rendered easy to set up for both long-time enthusiasts and rookies.
To ensure durability and suitability through seasons, the tent uses the UV protective technology and 75D 185T Polyester. This means it can resist different weather condition including the strong UV rays thus protecting the tent' color from fading away.
PROS:
Durable and capable of withstanding different weather conditions
Great ventilation and easy entry
CONS:
Doesn't come with a footprint
It's not for tall people
---
5
Coleman Sundome 2 Person Tent
Coleman has been releasing a class series of tents for several years now, earning a spot as one of the top companies in the tents industry.
And speaking of the best kayak tents, the Coleman Sundome 2 Person Tent stands out as one of the industry's top performers. 
The Coleman Sundome 2 Person Tent is a compact and stylish shelter for two perfect for tropical and warm climates (48 inches of height). It's a tent that will keep you dry and safe without the additional waterproofing.
It is a free-standing tent with the structure built on an X-shaped pole construction, making it so important for kayak camping since it can be pitched on every ground easily. The tent features mesh windows on all sides for proper ventilation.

Made from 1000D polyphone with WeatherTec System technology, you're assured of great waterproofing and durability. The door is secured by a flysheet made from polyester material.
You can also run electricity inside thanks to the zippered electrical installment port for AC power.
PROS:
Fascinating design
Easy to set up
Spacious compared to other 2-person tents
CONS:
The tent is only suitable for summer camps
Slightly heavy when compared to other tents
Some campers have criticized the small rain fly
---
6
Hooligan Tent by 
Coleman
Different camping adventures came with special demands such as the tent's capacity. And it's always every camper desire to find whatever they are looking once they go shopping for their camping gears.
In that vein, Coleman has been at the top of their game for several decades now, providing a great product as far as camping is concerned. And their Hooligan tent is enough to explain how much energy and resources they have devoted to ensuring a better camping life. 
The Coleman Hooligane tent is available in 2. 3, and 4-person modes, but the 3-person model is the most popular one among campers and backpackers.
The most outstanding feature of the Hooligane is the company's WeatherTec™ System that gives the tent a reliable waterproofing property. With the WeatherTec System's reversed seams, full rain-fly, and welded floors, this tent helps you to remain dry in wet conditions.
The joint in the corners are well finished to ensure that you can rest peacefully without a single leakage.
On set up, its unique pin-and-ring set up is quick and simple. The color-coded pitching solution and snag-free constant pole sleeves make the setup simple.
To ensure durability and suitability through seasons, the tent uses the UV protective technology and 75D 185T Polyester. This means it can resist different weather condition including the strong UV rays thus protecting the tent' color from fading away.
The Coleman Hooligan tent's simple and clean design is admirable. It is made 8 by 5 ft in size and can easily accommodate 3 persons and still leave enough space for their gear and bags.
PROS:
It's 1 pole design allows for a quick and easy setup
Lightweight
Strong construction
CONS:
Small vestibule entry
Not convenient for rough terrain
Not suitable for cold weather conditions
---
Key factors to consider when looking for the best tents for Kayak camping
For most individuals, it's how well a tent can handle the weather and durability. But speaking from an expert's perspective, there are several special things in a kayak camping tent you should take seriously than you would in regular tents.

1. Waterproof
For all the glory of a perfect kayak camping experience, you'll always need the right tent made from waterproof material. You really don't want your tent getting wet.
Once you go on your kayaking trip be prepared that your tents will get wet. You should avoid using canvas tents because of their tendency of getting soaked and becoming heavier.
Waterproof tents with a sealed floor are essential to keep you safe and dry.
2. Weight
Although there isn't an exact weight for kayak tents, it important that your tent's weight shouldn't affect how you pack your essentials. You really don't want to weigh your kayak down.
That said, middleweight tents are perfect for kayak camping trips, giving a little more freedom with the weight of the kayak.
While waterproofing and weight remain the main factors for those looking for the best tents for kayak camping, you can also consider these extra elements.
3. Setup and Teardown
Most campers set up their tents when exhausted from their adventures, and in some of the worst weather conditions such as rain, wind, snow or darkness. Banked on these reasons, it important that you settle for tents that are easy to set up and teardown. This will save you enough time for resting – see our review of the best instant tents for camping.
4. Weather resistance
It's never just about waterproofing and keeping you dry. The kayak tents should be designed to offer you the comfort needed for the three seasons.
The tent needs to have good performance in wind and rain, as well as providing comfort in cold areas, warm beaches, and hot deserts.
5. Capacity
This depends on your personal preferences and the number of people going camping. Personally, I love the additional space to spread out that 2-person tent offers, hence I would go for the best 2 person tent any day.
There's never enough space to cram everybody into one tent. So, if you're set for camping you must know the capacity of your preferred tent.
6. Ventilation
Whether you're going for a warm or cold weather camping, you need a tent with good ventilation. This is because in warm weather the tent may heat up and hinder the air from moving freely in, out and around the tent. In cold temperatures, condensations tend to be a problem.
Even though lightweight and portability are the two main requirements for choosing the best kayak tents, it's always important to pay more attention to the aforementioned factors. These factors are pretty obvious, but from time to time get forgotten in the eagerness of purchasing a new tent.
So, if you have enough resources and an appropriate kayak for camping or a canoe. Then you would be mindful of the particular weight limit of the kayak and therefore can account how heavy your loading can be.
Conclusion
These are some of the industry's best tent for kayak camping and through them, you're sure of having the best camping adventures. Always go for a spacious tent that will ensure you have the comfort and peace needed for enough rest.
If you're not sure of which tent to choose, you can always seek help from experts.
Our Pick: Coleman Sundome 2 Person Tent
And speaking of the best tent for kayak camping, the Coleman Sundome 2 Person Tent stands out as one of the industry's top performers.
Last update on 2020-09-22 / Affiliate links / Images from Amazon Product Advertising API