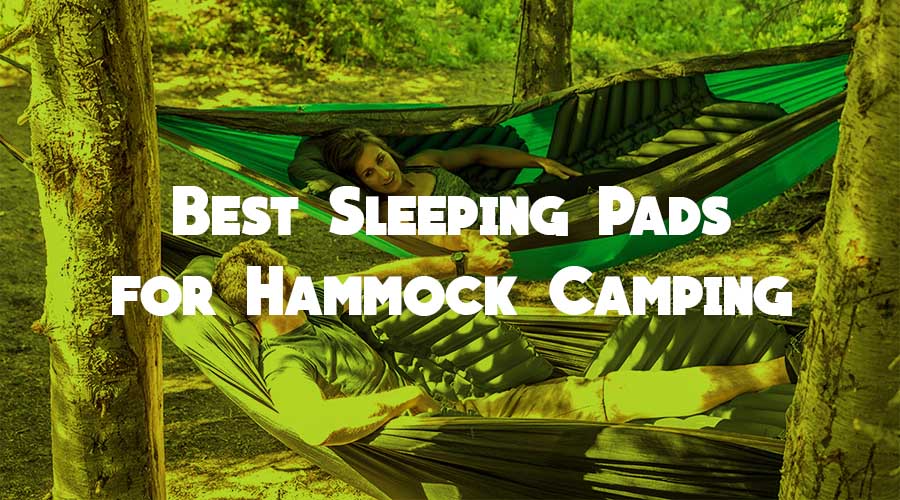 Although hammock camping provides a bunch of distinct benefits, there are one or two concerns that plague many individuals such as weather, bugs, and back pain.
Fortunately, these concerns are easily resolved by using the best sleeping pads designed for the hammock.
---
Our Pick: Outdoorsman Lab Sleeping Pad for Camping
Outdoorsman Lab is a USA-based company out of Colorado that is quickly emerging as a consumer favorite for outdoor gear. As of now, they seem to specialize in sleeping pads that are comparable to other premium-quality brands, only they are using some patented technology.
The Outdoorsman Lab Ultralight sleeping pad weighs in at approximately 14.4 ounces and is made of 200-Denier ripstop woven Nylon laminated with TPU. This goes a long way in resisting moisture and preventing untimely wear and puncturing. The Ultralight bears a single, easy-to-use valve for inflation and deflation. With about a dozen breaths, depending on your lung capacity, it expands to a full 2.2 inches in thickness. Deflation is even simpler, as you simply release the valve and fold up the pad.
The small size is a key selling point. Reviewers are pleased with how small and light this pad is compared to pricier, popular gear. It folds down to an approximate size of 8″ x 3″ x 3″, making it easy to stow away in packs or even stash in outer pockets. The cell-compartment pattern is very supportive for a sleeping pad that isn't too thick, and it pairs well with Outdoorsman Lab's sleeping bags. Outdoorsman Lab products are designed for three-season warmth; the sleeping pad has an R-value of 2.2.
Overall, this sleeping pad aims to corner the "just right" market; it's comfortable but not too thick, sized right at 73" x 21.6" when inflated, easy to clean, easy to inflate, and so
small and light when packed away that you'll forget you're carrying it. The most interesting thing about Outdoorsman Lab is that they offer a 30-day DOUBLE REFUND in cases when the sleeping pad doesn't meet your expectations. Aside from that, they also offer a lifetime warranty – replacing defective sleeping pads even if they were purchased years ago.
PROS:
Price
Inflates and deflates easily
Lightweight
Rolls up really small
30-day no-questions-asked refunds
CONS:
Sliding around
Too thin for heavier people
---
Runner-Up: Klymit Insulated Hammock V Sleeping Pad
Klymit is widely known as one of the best companies that specialize in the manufacture of sleeping pads, thanks to their innovations that have contributed a lot to the growth of the sleeping pad industry.
Their proactive nature and passion for innovation saw them come up with the Klymit Insulated Hammock V Sleeping Pad, specifically designed for the hammock. A clear sign of what works on the solid ground doesn't necessarily work in the hammock – a great move to protect you from the Cold Butt Syndrome (CBS).
When you pull this sleeping pad from its stuff sack, you'll marvel at how wide it is. I initially thought it could accommodate two sleepers but later appreciated its huge size that I bet you'll love it too.
The Klymit Hammock V pad measures 47" by 78", with four panels outspreading from the central pad body. These panels are designed to provide extra cushioning if you happen to slide off the main body in your sleep, and the structural benefit of holding the hammock open and preventing the pad from sliding (stability) – making it more comfy and roomy. The panels are also vital when it comes to eliminating cold spots around your arms and legs.
To assure you of proper insulation and warmth, the pad has an R-value of 4.4, which is sufficient for the three seasons. The design also separates the upper and lower half of the pad, so that warm air can be trapped next to your body for better insulation.
On inflating and deflating, the pad features two valves located at the top with values clearly marked. It will take you about 20 – 30 breaths to inflate but always ensure the deflate valve is always closed before you start.
PROS:
Does not slide around in the hammock
Inflates and deflates easily and quickly
Suitable for all seasons
CONS:
Heavy and difficult to pack
Exaggerated claim for all 4 seasons
Expensive
---
Also Great: Klymit Static V2 Sleeping Pad
If you have used the popular static V pad, you'll be appreciated that this Klymit Static V2 Sleeping Pad is an improved version of the static V pad.
The interesting feature of this pad is the V-chamber design that is unique and helpful when it comes to controlling the movement of air when using it. This greatly helps in insulating your body against the cold ground and weather.
The design makes it convenient for different uses including the hammock.
In terms of strength and durability, the rugged 75D polyester fabric ensures the pad remains useful for different camping trips. Its lightweight is an added advantage to backpackers and campers.
It features a push valve used for inflating and deflating it, and be easily inflated in just 10-15 breaths.
PROS:
Quite wide pad
Very comfortable
Affordable
CONS:
It's noisy
Slide around in the hammock
Minimal insulation (an R-value of 1.3)
---
Also Great: Self Inflating Sleeping Pad Lightweight Foam Padding by TNH Outdoors
TNH Outdoor have managed to earn a spot here with their #1 Premium Self Inflating Sleeping Pad Lightweight Foam Padding and Superior Insulation.
Although this pad is not specifically meant for the hammock, I found it comfortable for hammocking. Besides, the company's confidence in this pad assures you of having the best experience with their product. They claim the pad leaves you refreshed after your sleep.
Whether you're a back sleeper or slide sleeper, this pad is bound to improve hammocking forever. Once it's well inflated (through self-inflation and a few additional breaths for even distribution of air), you'll be assured of a comfortable platform ready to insulate your body from the cold ground and weather.
With a thickness of 1.5," you're assured of a comfortable platform, not forgetting 75D polyester outer shell that makes the pad strong and durable.
The greatest advantage of using this pad is how easy you can inflate it.
PROS:
Strong and durable
Perfect for supporting the body's highest pressure points
Well accommodated in the hammock
CONS:
Concerns of cell separating and bubbling
Slightly heavier than stated
Not suitable for side sleepers
---
Also Great: Ultralight Sleeping Pads for Backpacking by Hikenture
Hikenture is widely known to provide several options when it comes to camping and hammock sleeping pads. The flexibility and comfort of their pads is one of the main reasons why people find it a convenient solution for their outdoor activity.
The Ultralight Sleeping Pads for Backpacking by Hikenture very light and compact thanks to its inflated size of 72.8″ by 21.2″ by 1.5″, which makes it convenient for those looking for light pads. Its pack size is "as tiny as a water bottle" according to the manufacturers.
Made from 20D nylon fabric and extruded TPU coating, you're assured of a strong sleeping pad that will last long through different climates and still provide with a more comfortable sleeping platform for your hammock.
With an R-value of 1.3 and the additional insulation acquired from inflation, you'll be able to protect your body from harsh weather conditions. It inflates and deflates quickly with only 7-12 full mouth breathes required for inflation.
PROS:
Lightweight
Inflates and deflates quickly and easily
Strong and durable material
CONS:
Minimal insulation (an R-value of 1.3)
Too much noise
The pad slides around in the hammock
---
Also Great: Hybern8 Ultralight Inflatable Sleeping Pad by
Boasting of being thick and lightweight, the EcoTek Outdoors Hybern8 Ultralight Inflatable Sleeping Pad makes their great mark in the insulation/comfort part of the camping and hammocking market.
This pad is equipped with the new hexagonal technology. The hexagon engineered pattern design provides you with a supportive balanced surface for more comfort and warmth. Although the pad hasn't been designed for the hammock, it still makes one of the best sleeping pad for the hammock thanks to its high performance from my research and test.
Made from a woven polyester fabric, the pad is strong and durable enough to withstand different conditions from camping trips.
With its lightweight and 10" by 3" when packed, this pad the right solution for several family camp-outs, backpackers and active outdoor persons.
The FlexCell honeycomb design makes it convenient for using in a hammock, among other uses.
PROS:
Durable fabric
Self-inflating
Great size making  it convenient for several outdoor activities
CONS:
Less compact  compared to other models
The cover tends to stick like glue
Noisy and unstable
---
Also Great: HotSpot Sleeping Pad Sleeve by ENO Eagles Nest Outfitters
Are you looking for a sleeping pad specifically designed for the hammock, the ENO Eagles Nest Outfitters – HotSpot Sleeping Pad is one of the best solutions we have around.
According to the manufacturers, the HotSpot is bound to change hammocking for the better. It features sleeve wings and stretching panels designed to help the pad stay in place without slipping around in the hammock.
The insulated wings and panels wrap comfortably around you, making it appropriate for several (3) hammock-camping seasons.

The pad nicely made with no weakness in stitching and overall construction. The wings are attached to the main body with wedge-like webbing material to make them flexible and to assure the pad of flexibility. Through my time using the pad, I discovered the HotSpot to comfortable with no buckling of material or uncomfortable ridges.
The pad's 6mm thick closed-cell foam traps enough air around your body giving it the right amount of insulation to keep you warm and comfortable. Made from ripstop nylon the pad provides a comfortable surface to rest on without developing back pains.
PROS:
Affordable compared to other pads
It provides adequate coverage to leg, hips, and shoulders
The webbing between the wings is amazing, making it convenient for different activities
CONS:
Some people have complained that the pad isn't wide enough to keep their hips and shoulders warm
Tends to slip away from the body as you move
Slightly heavy – 

9 ounces
---
How to Choose the Best Sleeping Pad for Hammock Camping?
Backpackers and campers have been using sleeping pads for ages to offer them a comfortable platform to spend a relaxing
night in the woods. Nevertheless, several primary factors must be taken into consideration when choosing the best sleeping pad for the hammock.
1. Warmth (R-value) and Insulation
Insulation is essential to keep you warm and comfortable when you're out camping at night. The sleeping pad should be able to keep you
insulated from the temperature drops to remain warm throughout the night. So, when you're out there looking for a sleeping pad, you need to take the R-value seriously since it quantifies how well a sleeping pad can insulate your body from the harsh weather.
The R-value ranges from 1-10, corresponding to the pad's insulation properties. The higher the R-value rating, the warmer the pad. In most cases, an R-value of 1-5 is enough for most camping experiences. Pads with 5+ R-value are meant for winter camping where there are ice and snow.
2. Inflation (foam pads or air pads)
There are three types of sleeping pads: foam pads, air (inflatable) pads, and the self-inflating pads. Inflatable pads are more expensive compared to the foam pads, besides being a bit complex to set up. They are ideal for backpackers because they are lightweight and easy to pack.
Foam pads and self-inflating pads are a bit similar, with the only difference being that self-inflating pads allow the foam cells to self-fill with air. Foam pads are cheaper, easy to set up, and can always be used for several activities. The main downside of inflated and self-inflating pads is that they can be punctured.
3. Weight and Packed Size
Depending on your allowable weight, packed size, and activity, you'll know the right weight of the sleeping pad. From experience, you'll have a more comfortable hiking or camping experience if you choose to go with a lighter backpack. Banked on this, my list of best sleeping pads for the hammock recommends light pads that are convenient for different activities.
You should also understand that foam pads are the lightest, followed by inflated pads, and self-inflated pads are the heaviest. Speaking of packability, foams pads are the least packable, self-inflating falls in the middle, and inflatable pads are the most packable.
4. Thickness
The thicker the pad, the more comfortable it is. Although thickness remains an important factor, you should understand its limits through understanding the structure of each pad. It's so frustrating to go for a thicker pad that will add extra weight to your packed size or make your sleep feel like bouncing in a pool of floaties.
5. Shape
Depending on your sleeping style, you should be able to choose from mummy sleeping pads and the common rectangular pads. Mummy pads are known to save weight by removing the corner sections while rectangular pads remain convenient for back sleepers.
6. Length and width
To choose the right pad with the correct length and width, you should have a good knowledge of your sleeping style, height, and body weight – knowing that your shoulders and hips are the peak pressure points for sleeping pads.
On a length, you can choose full-length pads that will keep your feet warm and cushion the heels, or go for torso-length pads that saves weight and lets you sleep with your legs hanging off the end.
On width, side sleepers are known to go for the standard 20-inch width pads.
7. Noise and Stability
Some pads have the tendency to move around underneath when resting or sleeping in the hammock. Although the solution is always to put the pad inside a sleeping bag, you can find pads made from firm materials that assure you of stability.
Another annoyance with pads is squeaky or crinkly noise they make, which is a big bother to light sleepers. You should always be looking for pads that make less noise because none of them will be quiet and calm your mattress at home. The pad's noise tends to fade over time.
You should also remember to choose pads that come with repair kits because you never know what may happen in the woods.
In line with these factors, I've researched several sleeping pads to help you find the best sleeping pad for the hammock to keep you safe and comfortable.
Benefits of Using the Sleeping Pad for Hammock
Whether you are hiking, camping, hunting or attending a music festival, having the right sleeping pad is the only solution that will give you the pleasure of feeling well-rested out there.
The right sleeping pad should cushion your body from the solid ground, and help you remain warm through your sleep. Safety, comfort, packability, and weight must also come into play.
Conclusion
With this comprehensive guide, you'll be able to have the best sleeping pad for hammock camping that will see you snooze soundly through your outdoor activities. Simply forget about sleeping on the cold and uncomfortable ground.
Our Pick: Klymit Insulated Hammock V
When you pull this sleeping pad from its stuff sack, you'll marvel at how wide it is. I initially thought it could accommodate two sleepers but later appreciated its huge size that I bet you'll love too.
Last update on 2020-10-30 / Affiliate links / Images from Amazon Product Advertising API