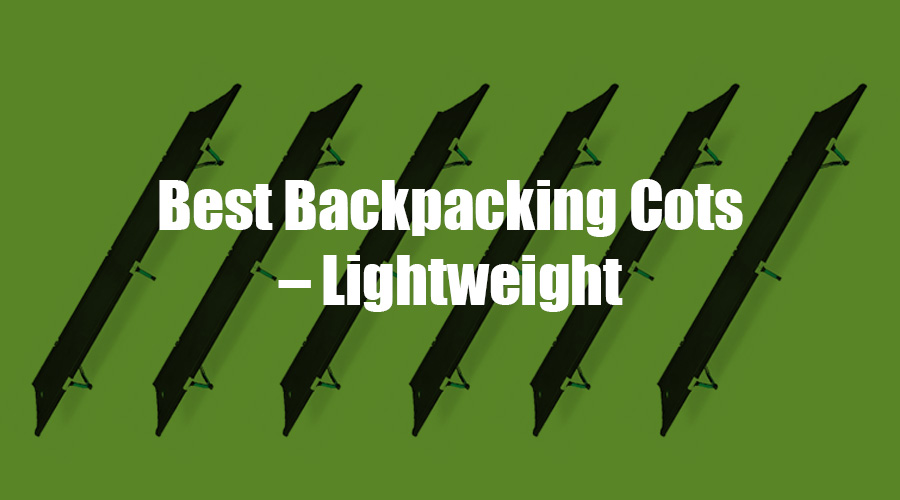 Camping and backpacking cots are the most preferred sleeping accessory for outdoor enthusiasts thanks to their versatility, strength, and comfort. Away from keeping you off the ground, they are better than traditional sleeping mats because getting up and down is easier. An ideal solution for sleeping comfortably when camping.
Because of their unending popularity, many people have written to me seeking to know about the best backpacking, lightweight cots for camping.
In that vein, I recently conducted deep research on camping cots and managed to put together this comprehensive buying guide featuring the basic factors to consider when shopping for a backpacking cot.
---
1
Our Pick: Cot One by Helinox
One of my favorite things about camping and backpacking is how we pay attention to the finest details when buying outdoor gears, with a great concern for weight and size.
The Helinox Cot One has been an instrumental part of my camping gear thanks to its great design that features high comfort outdoor technology.
The biggest advantage of having the Helinox backpacking cot how you're camping and hiking packaging will be light enough for your adventure.
This portable bed is lightweight with a weight of 5.1 pounds, making convenient for all outdoor activities.
The Helinox One is specially designed for individuals looking for more support and compactness than a sleeping pad, but still, keep a decent level of comfort and something to keep their packs light.
Its super strong thanks to bed fabric made from polyester Ripstop 100D and the durable DAC pole construction able hold up to 320lbs.
Assembling and disassembling this portable bed is easy since you don't need any special tools and skills. The legs and frame pole easily snap together just like the tent poles.
Dimensions: 75 x 27 x 6.5 inches.
PROS:
Large enough to accommodate you comfortably
Setting it up is fast and easy
Very strong and durable thanks to the strong bed fabric, durable pole and tension-lock handles
CONS:
Expensive, when compared with other models in its league
---
2
Lightweight Option: Camping Cot by Desert Walker
Though all cots listed here are lightweight backpacking cots, the Desert Walker Camping Cot takes the first spot for being the lightest of them all.
With its 2.8 pounds and an allowable capacity of 440 pounds, this cot is lightest for backpackers, campers, and hikers, among other outdoor enthusiasts.
The most amazing thing about the Desert Walker LightCot is that it's a collapsible tool, meaning it reduces to a very small size when collapsed for packing.
The bed fabric is made from a special type of composite fabric that is tear-proof, waterproof with excellent ventilation to assure you of comfort and safety from wet environments. Its size and level of comfort also make it convenient for both back sleepers and side sleepers.
It comes in a stable construction with four leg bar offering 8 points of support. The 7001 aerospace aluminum cot frame and tent poles are strong, shock-corded and very light in weight.
Its folded size is 19.6″ x 4″ with all elements coming separately, but assembling and disassembling it is fast and easy. You won't need any tools to assemble it.
Dimensions: 23.6″ x 72.8″ x 5.9″.
PROS:
Ultra lightweight
Convenient packed size
Simple assembly and disassembling
CONS:
Relatively short length at 73″
Uncomfortable for people with wide sholders
Some customers have complained about delays in delivery
---
3
Ultralight Folding Portable Cot by Yahill
If you're looking for a portable folding mattress with a good level of comfort and lightweight, Yahill Portable Cot is the right option for you.
The designers understood that all outdoor enthusiasts require something that offers a good balance of portability and comfort.
The Yahill Portable Cot weighs a mere 3 pound with 264 pounds load bearing.
Its compact design and light weight make it portable since it fits easily in a portage bag, pannier or backpack, making it convenient for traveling, hiking, camping, and other outdoor activities.
The bed fabric is made from stretch-free nylon capable of withstanding high pressure, making the cot sturdy and durable. The fabric (PV Oxford Cloth) is also waterproof and tear-proof thanks to its strong design.
It is also constructed of aluminum poles and lightweight nylon feet to improve its strength and durability. The bed fabric is designed with some extra holes for adding tubes and legs for improved support, especially for heavy users.
Assembling and disassembling the entire system is easy since the user guide is very comprehensive.
Dimensions: 70.8" by 22.8" by 3.9".
PROS:
A strong framework made of aviation aluminum alloy
A strong and durable bed fabric made from tear-resistant PV Oxford material
Comfortable and large enough to accommodate tall (huge) people
CONS:
Most customers have complained about its short height that keeps you close to the ground
Some users have had issues assembling
The fabric has poor insulation properties
---
4
Big Agnes Cot One V2 by Helinox
Ever wondered what it takes to improve a product from its predecessor and eventually have remarkable results from the series of upgrades?
Well, this is what most companies in the production industry do, and indeed it pays off well.
Helinox is a good example of the companies that have been utilizing this strategy to warm its way into the heart of many campers, backpackers, and outdoor enthusiasts.
In that line of thought, Big Agnes Cot One V2 is an upgraded version of the popular Helinox Cot Lite. This is a move to give the recent version a simple design with a series of upgrades addressing various concerns raised by users.
The Helinox V2 is more functional, and comfortable, making it more convenient for different outdoor activities.
Unlike its predecessor, it is designed using the superior strength of the Helinox TH72M aluminum Unique Helinox tension system that offers stronger support. Setting it up is also easier and quicker.
Away from the aforementioned upgrades, Helinox seems to have the rest of the features similar to the predecessor.
Dimensions: 72" by 26.5" by 6".
PROS:
The unique Helinox tension system offering a stronger support
Setting it up is easier compared to its predecessor
The legs have been redesigned to include hubs instead of pre-bent poles
CONS:
Weight capacity is relatively low, 320 pounds
Relatively small that tall individuals are not accommodated comfortably
Expensive
---
5
Ultralight Folding Camping Cot by KingCamp
Speaking of the industry's top cots combining the best level of comfort and being ultra-lightweight, the KingCamp cot can never go unmentioned.
KingCamp cot comes with a special design that assures you of maximum comfort by allowing you to sleep comfortably without a pillow since it is inclined.
In layman's terms, the headrest is slightly inclined to allow you to lay your head for maximum comfort.
It also features strong steel tubes brackets and triangle frame structures offering you a strong and steady cot.
The bed fabric is also made from the strong, breathable (well-ventilated) 600D double Oxford fabric, which comfortable and durable. It is waterproof and tear-resistant.
This portable bed is lightweight at 4.4 pounds with a weight capacity of 265 pounds. Its simple four-stents design, all shock-corded, also makes it easy to assemble and disassemble.
Dimensions: 75" by 25" by 4.7".
PROS:
Incredibly packable
Very comfortable, thanks to the headrest
Reasonable price
CONS:
Low weight capacity of 220 pounds
Not for very tall people
Some users have complained about its packaging bag that is somewhat small and you have to struggle to fit the collapsed bed in it
---
6
Ready Lite Cot by ALPS Mountaineering
If you're an outdoor enthusiast, then you can agree to the fact that ALPS Mountaineering is one of the top companies in the production of camping and outdoor gears.
Thanks to their great interest in making your outdoor life better, they have invested their resources in the production of camping cots.
The ALPS Mountaineering Ready-Lite Cot is one of the best backpacking cots in the company's line of pack-friendly outdoor beds. It is lightweight (4 pounds) and very large to address all your needs.
The bed fabric is made from the sturdy 420D polyester-honeycomb Ripstop fabric that is so strong and comfortable, giving it a reliable weight capacity of 300 pounds.
Its construction also uses a 7000 series aluminum frame for improved stability.
Then there's its compact foldable design that ensures the Ready Lite Cot never disappoints on your adventures since it includes a shoulder carry bag that makes it portable and storing a breeze.
Dimensions: 78" by 28" by 7.5″.
PROS:
Very light and compact, 4 pounds
The 7" BY 17" carry bag is appropriate
Strong bed fabric, 420D polyester-honeycomb Ripstop fabric
CONS:
Expensive
Comes in limited colors
Assembling is somewhat tricky
---
7
LuxuryLite Mesh Cot Large by Therm-a-Rest
Looking for a cot professionally designed for backpackers, campers, and kayakers, the Therm-a-Rest Mesh Cot is what you need.
This compact and lightweight backpacking cot is the perfect solution for off-the-ground rest and sleeping comfort.
You really don't have to worry about soaking up or rocks jamming into your back.
With the bow frame technology, you're assured of the best sleeping comfort as the cot's patented bow-frame design eliminates squeaky joints and painful crossbars.
This design employs lightweight (3 lbs. 9 oz. ounces), collapsible, shock-corded, anodized aluminum poles and sturdy nylon bed feet for strong support to keep you safe above the hard ground.
Then there's the bed fabric made from stretch-free breathable mesh fabric, allowing for excellent ventilation and making it suitable for heavy use with a weight capacity of 325 pounds. You're also assured of 4.5 inches clearance off the ground.
Dimensions: 77 by 26 by 4.5 inches.
PROS:
Maximum sleeping comfort from the bow frame technology
Very versatile
Strong and durable construction
CONS:
Setting it up is not easy
Heavy when compared to other cots in its league
Not suitable for backpackers
---
Criteria When Choosing Backpacking Cots
These are the primary factors to take into consideration when choosing a backpacking cot. Also, there are other cot options like double tent cots or double camping cots. See our reviews.
Weight
Speaking of weight, two critical factors to consider in this line are: the cot's maximum weight capacity and folded weight. Different types of backpacking cots come in varying folded weights where some fall in between 2 – 3 pounds while others 15 – 20 pounds, with a weight capacity of 250 – 450 pounds.
So, whether you're choosing a cot for a semi-permanent or permanent structure, make sure its folded (packed) weight is compatible with your storage and portability interests. It should also support your weight.
Size
After taking the cot's folded weight and weight capacity into consideration, it's high time you took size seriously.
Make sure the cots' size is large enough to accommodate you comfortably without some parts of your body hanging out of the sleeping surface. The right size for adults should be 75" long and 25"wide, but there are special sizes for taller and shorter individuals.
Choose cots capable of accommodating both side-sleepers and back-sleepers.
Comfortability
A cot's comfort and support depends on the spring system and/or fabric tension, which are helpful when determining the comfort level of the sleeping surface. Most systems are adjustable so that you set them in your own level of comfort and support.
Hence, it's important to go for cots with the best systems that are adjustable and always set to offer the best level of comfort and support.
Quality
Your cot's quality is well-defined by the quality of the fabric and frames because they are a good indicator of how comfortable, lightweight, strong and durable the cot will be.
For instance, the ideal bed fabrics are nylon and polyester because they are breathable, supportive, water-resistant and easy to clean. Steel and aluminum frame are also durable and can hold out heavier weights better than other metals.
Corded Bar Legs
Because you want the cot to support your body weight without the fear of the support system failing, most manufacturers are today using the corded bad leg technology. This helps keep the support system stable and strong.
Circular Legs
Many manufacturers are today embracing the circular leg technology to improve comfort and support.
Why Even Use the Backpacking Cot
As aforementioned, backpacking cots are better than your typical sleeping mat because of their versatility and convenience for camping, backpacking, hiking, and other outdoor activities.
They are comfortable, lightweight, and ideal for off-the-ground rest and sleeping. So you won't have to worry about sleeping on moist and hard grounds, as you make more room inside your tent.
Our Pick: Helinox Cot Lite
The Helinox Lite is specially designed for individuals looking for more support and compactness than a sleeping pad, but still, keep a decent level of comfort and something to keep their packs light.
Last update on 2020-10-30 / Affiliate links / Images from Amazon Product Advertising API